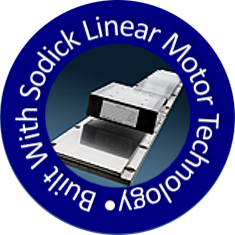 Screw-less Drive + Highly Rigid Construction

The screw-less drive, which uses a linear motor and linear scale, is the ideal drive method which maintains high-speed and high response performance semi-permanently. In addition, the AD35L employs the latest technology in highly rigid construction.
New NC Unit with "TMM3" Discharge Power Supply
The AD35L features Sodick's latest "LN" NC unit equipped with the new "TMM3" discharge power supply, capable of high-speed, high precision and high-efficiency machining. It is equipped with "LN Professional", automatic programming function, as standard.
Arc-less & High-Quality Surface Finish
The new "Arc-less" electrical discharge system features further improved in machining performance and ensures great reduction in machining time. Equipped with "SVC" circuit as standard, high-quality surface finishing, satin surface, and mirror surface can be achieved with greater ease.
 10 year warranty on positioning accuracy
LN Professional
Linear motor cooling unit
Linear scales (X, Y, Z axis)
Remote controller
USB port
Shuttle ATC
SEC-10 (C-axis)
SGF Plus Circuit
 15″ TFT touch screen display
Dielectric cooling unit
Automatic voltage regulator
Paper filter (2)
Fire extinguisher
Mouse
LAN connection
Tool kit
Work light
Specification
Work Table Size (W x D) [mm]
600 x 400 (ceramic)
Work Tank Inner Dimensions (W x D x H) [mm]
975 x 555 x 350
Work Tank Fluid Level (Min to Max) [mm]
170 – 300
X Axis Travel [mm]
350
Y Axis Travel [mm]
250
Z Axis Travel [mm]
270
Max Weight of Electrode [kg]
50
Max Workpiece Weight [kg]
550
Machine Tool Dimensions (W x D x H) [mm]
1895 x 1955 x 2350
(Includes Power Supply and Dielectric Tank)
Machine Tool Weight [kg]
3200 (Includes a Power Supply and Dielectric Tank)
Dielectric Tank Capacity (Initial dielectric fluid supply amount [L]
400