What is Industrial Transformation and its important
To remain competitive in today's market, it is important for precision engineering companies to be able to achieve cost reduction, increase production capacity, strengthen quality assurance but remain flexible enough to adapt quickly in supply and demand changes in the industry.
Today, automation is not just about replacing humans with robots. It is to supply precision engineering companies with an automation solution that enables them to have the flexibility to upgrade progressively according to industrial needs with minimum hardware replacement and disruption to production. This will allow companies especially the SMEs to smoothly adopt production transformation to meet industry 4.0 requirements.
One of the key benefits of implementing smart transformation is departing from traditional paper and manual processes. Smart solutions help streamline process flow, access helpful analytics, improve decision making capabilities, avoid costly rework and downtime, simplify performance monitoring, deliver to market faster, and provide detailed Overall Equipment Efficiency (OEE) data — all while improving quality and reducing waste to help to save the environment.
Transformation is essential to a business's ability to attract, retain and empower the next generation of workers. There's a better chance of attracting and retaining new workers who want to use the technology to increase efficiency through process improvement.
It never hurts to reevaluate your existing processes and operational needs. If you're unsure and just want to explore options, take that leap of faith with Sodick Singapore Techno Centre. Our sales engineers will talk through your business model and help you scale to where you want to be in three or even five years.
Sodick Automation Solution
Towards Industry 4.0


For Precision Engineering companies, especially the SMEs, adopting digital transformation to improve productivity and competitiveness is no longer an option but a necessity.
In order to allow Precision Engineering companies to smoothly adopting industrial transformation, Sodick Singapore developed a 3-Stage automation programme to handhold SMEs' transformation journey.
The 3 Stages are:
Stage 1 (Semi Automation):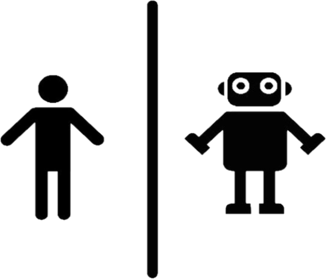 Automation System (with Asst CAD/CAM Module on UG)
Stage 2 (Fully Automation):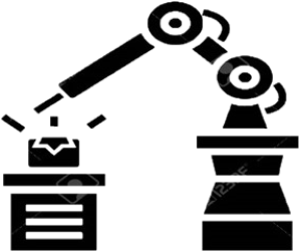 Includes Management System Precision Machining with Full Automation
(Robotic Arms)
Stage 3 (Fully Auto with Operational Management):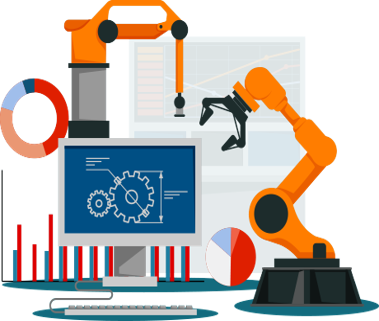 Complete with Manufacturing Execution
System (MES) Integrate Phase 1 & 2
Stage 1 ( SEMI Automation ):
In the Semi-Automation stage, digitalization and standardization turn human oriented procedures into various forms of "automation," and more applications are introduced as part of the process flow. This begins with automating well defined, individual tasks to improve efficiencies. Individual tasks are automated, but not yet consistently integrated.
Stage 2 ( Fully Automation ):
As the businesses start to appreciate the advantages from the semi-auto transformation, users will be motivated to progress to stage 2 to expand their digital model. In this stage, machine centers and robotic arms are integrated to focus on end-to-end production process improvement with manual process slowly eliminated.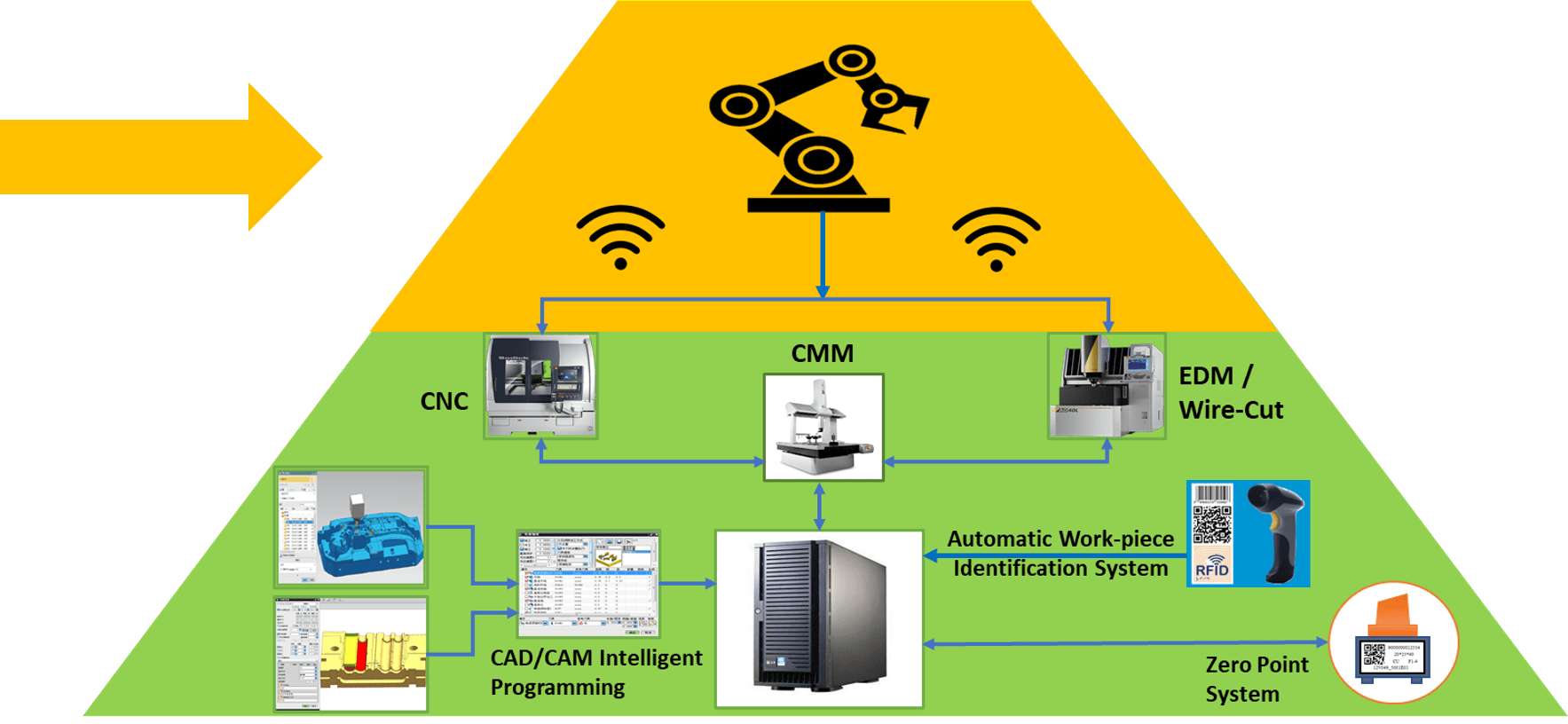 FULLY AUTO ROBOTIC OPTIONS
(According to customer's preferred specification and requirement)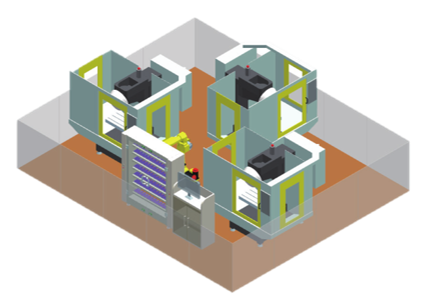 CNC module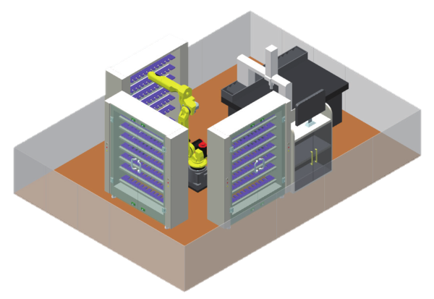 CMM module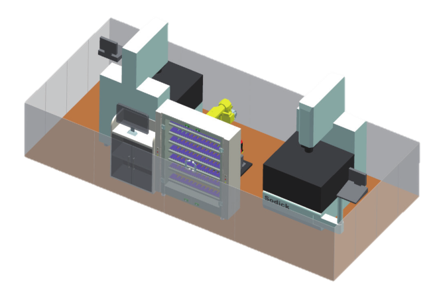 EDM module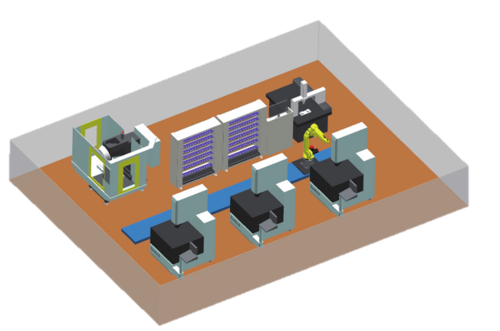 Single cell with combination
Stage 3 ( Fully Automation with Operation Management (MES) ):
Integrated Production and Operation Management. This phase unlocks new areas of shopfloor productivity gains with a Manufacturing Execution Systems (MES), which tracks products and order details on the shop floor, collects transaction data and electronically dispatches orders and manufacturing instructions to shop floor personnel.