Sodick Dependable Technology
Linear Motor Drive
In 1998, Sodick released the world's first linear motor drive die-sinker EDM and has been providing these machines for more than 20 years. The technology offers numerous excellent features and has obtained high acclamation from customers around the world. Today, you can find Linear motor drive in our selected models of Die-Sinker EDM, Wire-Cut EDM, High Speed Milling Centre and Metal 3D Printers.
Sodick Linear Motor Drive demonstrates superiority in transition speed and positioning precision compared to ball screw motors. Since there is little machinery contact, it offers high response and long-term stability. Sodick has accumulated a wealth of technology on linear motors, including the know-how to design and produce linear motors that are best suited for various machines.
Ceramic
As conventional metal material structures cannot maintain the required accuracy, most precision machines such as ultra-precision machine tools (nanomachines) and LCD panel manufacturing equipment are changing to ceramic structures.
With its excellent wear, corrosion and heat resistance, ceramics are new synthetic materials that offer the second highest hardness after diamond as well as high electrical insulation. They have extremely low thermal displacement and do not change over time. Due to these excellent characteristics, the use of Ceramic has been expanded to other applications.
Motion Controller
Sodick's motion controller is a technology developed for electric discharge machining that control high speed and highly responsive movements. The controller provides optimal control of electric discharge phenomenon in real time. It offers direct control of the wire running system and drive system.
Wire Rotation Mechanism
A new mechanism that rotates the wire to fully utilise the entire wire surface during finishing to achieve high-efficiency machining.
Applying rotation to the wire during finishing reduces wire consumption and allows a new wire surface to be constantly used for finishing from the top to bottom of the workpiece.
This is especially suited to finishing workpieces with high thickness. It offers innovative machining performance including stable machining dimensions, improvement of surface scoring and reduce wire consumption.
V-LINE®System
Sodick adopted the V-LINE®System, which separates the processes of plasticization and injection. This system led to the development of the zero-backflow system. With this system, the passage is actively cut off after measuring and injection operation is then performed, so all measured resin gets injected into the mold. The birth of the V-LINE®System enabled accurate measurement of the injection amount, and control by numerical value became possible for the first time.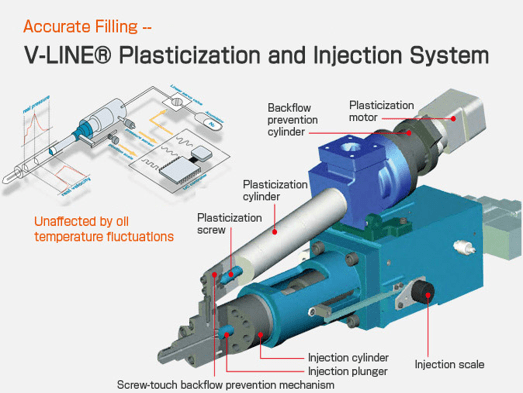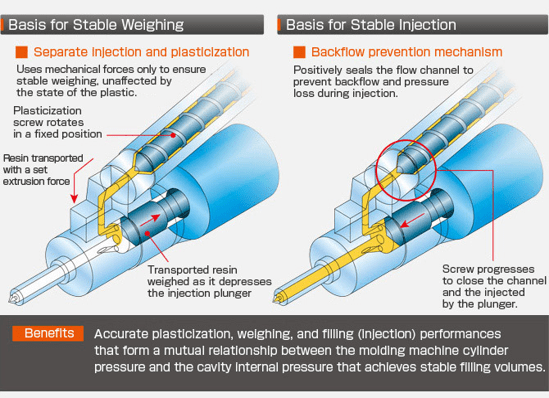 V-LINE®System is a registered trademark in Japan of Sodick, Co., Ltd.
Sodick IoT
An IoT platform enable machine tools to be able to be accessed from any location via Smart Phones, Tablets, PC or any other devices. Individual machine's status including machining rates, quality and On-Time delivery (OTD) data can be collected for analysis and for making investment decision.
S-Viewer
This software inspects each NC unit at a fixed interval to collect data. Centrally managing the operating status of the registered machines (NC units) allows problems such as temporary stoppages to be discovered at a shorter time even from remote location. This minimise machine downtime and increases machines efficiency.