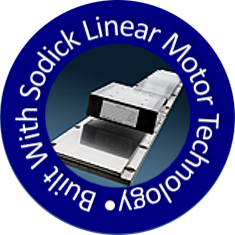 First in the world ! Wire Rotation Mechanism "i groove" Achieves high precision machining while suppressing the cumulative pitch error to the utmost in progressive press dies and superlative performance with in-house developed core technologies.
More efficient and environmentally friendly finishing of thick plate
Applying rotation to the wire during finishing reduces wire consumption and allows a new wire surface to be constantly used for finishing from the top to the bottom of the workpiece.
This is especially suited to finishing thick plate workpieces. It offers innovative machining performance including stable machining dimensions, improvement of surface scoring, and reduced wire consumption.
New groove and step machining function "Step-cut"
It permits machining at the same speed as under standard conditions while significantly improving the accuracy and range of applications when machining shapes with rapidly changing material thickness, such as stepped shapes.
Latest Electrical Discharge Technology for Rapid and Accurate Machining
Sodick has been working for many years to develop the world's best wire-cut electric discharge machines. The AL Series "i Groove Edition" offers flexible control from high peak currents for efficient rough machining to ultra-fine discharge pulses for micro finishing.
In addition, The Sodick linear motor drive is a non-contact system that eliminates the need for ball screws. It is maintenance-free and maintains its initial accuracy almost indefinitely, with no drop off in machine accuracy due to ball screw wear throughout the life of the machine (10 years or more).
Temperature-synchronized machine
All models in the series are equipped as standard with the AIM (AI Maintenance) environmental temperature diagnosis function and TH COM thermal displacement correction function that can handle everything from high-accuracy to rough temperature environments, in addition to a logging function and temperature display of the machine surroundings.
In addition, the full-cover specification machine features a temperature equalization system to provide a more stable machining environment.
Specification
Dimensions in Machining Tank (WxD) (mm)
850 x 610
X Axis Travel (mm)
400
Y Axis Travel (mm)
300
Z Axis Travel (mm)
250
U-Axis x V Axis Travel (mm)
150 x 150
Max Taper Angle
±25° (Plate Thickness 130mm)
Max Workpiece Size (WxDxH) (mm)
600x470x240 (during flushing machining)
600x470x230 (during submerged machining)
Max Workpiece Weight (kg)
500 (during flushing machining)
350 (during submerged 1000 machining)
Wire Electrode Diameter (mm)
Ø0.05 – Ø0.30
Wire Tension
3-23N
Maximum Wire Feed rate
420mm/sec
Distance from Floor to Table Top (mm)
995
Machine Dimensions (WxDxH) (mm)
2190x2605x2230
Machine Wieght (Including P/S) (kg)
3400