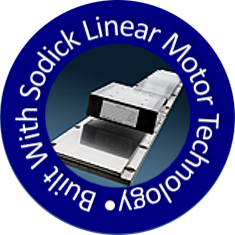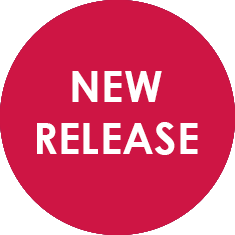 Novel Construction and System That Minimize Thermal Displacement. Achieves Higher-precision and Faster Machining of Large Parts and Molds.
4-Axis (XYUV) Linear Motor Drive
High-performance linear motors developed and manufactured by Sodick are adopted for the four XYUV axes. They can maintain accurate axis
movement with no backlash semi-permanently, something that is impossible with conventional ball screw drive methods. The high response
and high tracking performance that are features of linear motors achieve accurate position control and excellent discharge characteristics
during machining.
High Rigidity Construction and Precision Thermal Compensation System
The AL800P adopts a high rigidity construction supported by the ultra-precise roller guide as well as featuring a machining fluid circulation system for major structural components. In addition, a newly developed high-precision thermal compensation system and automatic temperature control by a high-performance inverter cooler minimize the thermal displacement during high-precision machining of large
workpieces.
Latest "SPW Power Supply" NC Unit and New Machining Circuits
A variety of the latest technologies for highspeed, high-precision, and high-quality machining, such as Digital-PIKA-W Plus, TMP control II, Barrel-free Effect Control II, new tension servo function, and automatic float control are installed as standard to achieve stable high-efficiency machining with the minimum number of cuts. The horizontal 19-inch touch panel screen offers advanced operability and functionality.
Specification
Dimensions in Machining Tank (WxD) (mm)
1410×1110
X Axis Travel (mm)
800
Y Axis Travel (mm)
600
Z Axis Travel (mm)
250
U-Axis x V Axis Travel (mm)
150 x 150
Max Taper Angle
±25° (Plate Thickness 130mm)
Max Workpiece Size (WxDxH) (mm)
1250x1020x240 (during flushing machining)
Refer to datasheet
Max Workpiece Weight (kg)
1500 (during flushing machining)
Refer to datasheet
Wire Electrode Diameter (mm)
Ø0.10 – Ø0.30
Wire Tension
3-23N
Maximum Wire Feed rate
420mm/sec
Distance from Floor to Table Top (mm)
995
Machine Dimensions (WxDxH) (mm)
3300x3650x2415
Machine Wieght (Including P/S) (kg)
5750