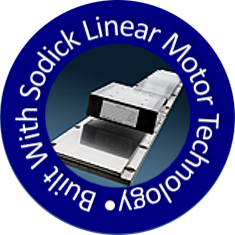 Oil machining performance in the fine and precision ranges, responds to the various needs of molds related to motor cores and electronic devices
Screw-less drive + gantry type construction
This machine uses a linear motor drive which realizes high speed and fast response and also a low center of gravity gantry-type column, enabling the mechanical displacement due to mass motion to be reduced to the minimum possible, and also realizing greatly improved positioning and machining accuracy.
Newly developed power supply unit
The new power supply unit employs 5th generation EDM "Perfect Active Control" technology. It also uses 1 Gbit/sec serial communication technology, realizing high-speed processing of discharge control and motion control simultaneously.
Improved workability and operability
This machine comes with a three-sided automated vertical sliding machining tank, a U-shaped work stand, and other parts, resulting in greatly improved workability during setup process. In addition, the operation panel is separate from the machine, which enables all work to be performed from the front of the machine.
Specification
| | |
| --- | --- |
| Dimensions in Machining Tank (WxD) (mm) | – |
| X Axis Travel (mm) | 250 |
| Y Axis Travel (mm) | 150 |
| Z Axis Travel (mm) | 120 |
| U-Axis x V Axis Travel (mm) | 35 x 35 |
| Max Taper Angle | ±7° (Plate Thickness 100mm) |
| Max Workpiece Size (WxDxH) (mm) | 400 x 270 x 100 |
| Max Workpiece Weight (kg) | 80 |
| Wire Electrode Diameter (mm) | Ø0.03 – Ø0.20 |
| Wire Tension | 3-18N |
| Maximum Wire Feed rate | 250mm/sec |
| Distance from Floor to Table Top (mm) | 1080 |
| Machine Dimensions (WxDxH) (mm) | 1860 x 2515 x 2105 |
| Machine Wieght (Including P/S) (kg) | 3730 |