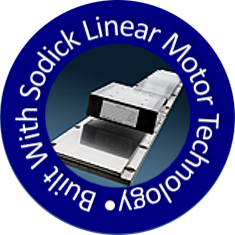 Direct-drive
Sodick's direct-drive system employs linear motors and linear scales, resulting in excellent positioning accuracy with maximum acceleration of 1.2G, made possible by high-speed servo-jump. Work set-up is simple and expert-level skills are not required, providing a highly user-friendly operation environment.
Unique machine structure
The workpiece set-up table is completely separated from the drive system, thereby achieving mechanical construction that is completely unaffected by the shifting workpiece weight. In addition, the symmetrical gantry construction reduces mechanical displacement, and provides excellent machining stability.
Increase production efficiency
The extra service stroke allows the machining table workspace to be opened up giving greater access to the area for workpiece set-up. To further increase productivity, automatic tool changer (option) can facilitate continuous hours of automated machining, resulting in improved production efficiency and reliability.
10 year warranty on positioning accuracy
Linear Motor (X/Y/Z axis)
Absolute Linear scale (X/Y/Z axis)
Ceramic components
Linear motor cooling unit
Dielectric fluid cooling unit
SVC circuit
1Gbit/sec communication technology
"SGF Plus" Nano-Wear Discharge Unit
Improved Ease of Operation
Remote controller
LN Professional software for optimum condition search
Clamping chuck
LAN interface
USB port
15″ TFT Screen
Work light
Specification
Work Table Size (W x D) [mm]
1500 x 2000
Work Tank Inner Dimensions (W x D x H) [mm]
1900 x 2590 x 800
Work Tank Fluid Level (Min to Max) [mm]
400 – 750
X Axis Travel [mm]
1200
Y Axis Travel [mm]
2000 (+500)
Z Axis Travel [mm]
600
Max Weight of Electrode [kg]
100
Max Workpiece Weight [kg]
10,000
Machine Tool Dimensions (W x D x H) [mm]
3550 x 5785 x 4220
(Includes a power supply and dielectric tank)
Machine Tool Weight [kg]
22,000
(Includes a power supply unit)
Dielectric Tank Capacity (Initial dielectric fluid supply amount [L]
6000