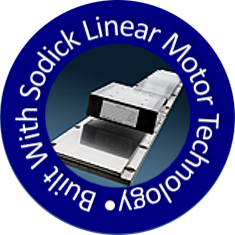 Meets Large Size and Diverse Needs. Parallel Mode Significantly Increases Printing Speed. Material Recovery System(MRS) Enables Automated Continuous Operation.
One Process Milling
The one process milling is the fully-automated manufacturing method newly proposed by Sodick. The machining enables the continuous process of melting by the irradiation of metallic powder with laser light followed by finish machining by milling with rotating tools. In particular, for die manufacturing for plastic molded products, complex shapes such as three-dimensional cooling channels and deep ribs can be manufactured with this single printer.
High-Speed Printing and Cutting Time Reduction Material Recovery System
The new machining method (parallel mode) can print multiple spots simultaneously by controlling a single laser source at high speed. Cutting machining time can be reduced significantly by optimizing the balance of lamination count by laser and cutting finish machining with tools depending on the three-dimensional shape to be machined. The continuous operation has been enabled by developing an optional Material Recovery System (MRS) for metallic powder.
Sodick In-House Made NC Unit and Dedicated CAM
The Sodick in-house developed and manufactured CNC unit, LN4RP, is used along with an in-house developed and manufactured high-performance linear motor. A die with a built-in three-dimensional cooling channel is designed with CAD and a resin temperature simulation is implemented with CAE. NC programming with dedicated CAM, OS-FLASH, using the designed CAD data is followed by die manufacturing with OPM350L in a one-stop process.
Specification
| | |
| --- | --- |
| Maximum Object Dimension (WxDxH) (mm) | 350 x 350 x 350 |
| XxYxU Axis Travel (mm) | 360 x  360 x 344 |
| Machining Tank Inner Dimension (WxD) (mm) | 390 x 390 |
| Spindle z Axis Travel (mm) | 100 |
| Maximum Workpiece Loading Weight (kg | 300 |
| Powder Feed Amount (Maraging Steel) (kg) | 110 |
| Machine Dimension (mm) | 2020 x 2485 x 2355 |
| Machine Weight (mm) | 5800 |
| Laser Method | Yb Fiber Laser |
| Laser Wavelength (nm) | 1070nm |
| Max Laser output | 500W |
| Laser scanning method | Galvano Method |
| Spindle Rotation Speed (min−1) | 6000 to 45000 |
| Spindle Max Torque | 0.8Nm |
| ATC Holders | 20 positions |
| Tool Holder System | Dual Contact Shrink Fir Holder (HSK-E25) |
| NC Unit | LN4RP |
| Controlled Axes | 6 axes (X,Y,U,B, main Spindle) |
| Number of simultaneously controlled axes | Max. 4 Axes |
| Min.input unit (µm) | 0.1 |
| Min. Travel unit (µm) | 0.031 |