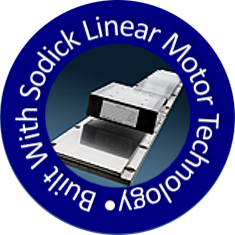 Linear Motor Drive / Ultra High-Speed Milling Center
Striving to achieve the ultimate in quality A perfectly balanced all-linear design reflects state-of-the-art advances for the ultimate in high-speed milling.
A variety of spindles developed in-house
To meet various processing requirements down to the most precise details, you can configure settings by choosing from a lineup of four HSK shrink fit type dual face contact spindles. These spindles suppress vibration and core deflection to provide balance between rotation-torque characteristics and high rigidity.
Incorporates the new and advanced NC unit
Our proprietary motion controller and integrated PWM amplifier improve speed performance for all axes control cycles. We've achieved exceptional improvements in the responsiveness of the driver servos. Improvements to 1 nm* resolution control allow even higher quality finishing achievable at the finest grades.
*1 nm (nanometer) = 1/1,000,000,000 m
The NC operation screen has been refreshed to provide the latest in interface technology, improving visibility and providing a more direct and intuitive operating experience. SEPTune, a new configuration support mode we've developed for the SEPT high-speed and high-precision contour control function, frees you from relying on rules of thumb and enables simple, rapid customization.
Linear Technology from Sodick, the World Leader
Linear motor drives that we've developed and manufactured drawing on up to 20 years of experience and knowhow are fitted as standard to each of the three axes. Going fully linear achieves the perfect balance to ensure you get the absolute best in high-precision, high-quality, and high-speed milling.
MotionExpert®-AI and S-Viewer are included as standards to meet your IoT requirements
MotionExpert®-AI is simulation software that allows accurate estimates of actual machining times and displays a distribution of machining speeds.
S-Viewer is IoT software that collects data from machine groups connected to the network at regular intervals to allow centralized operational control from remote locations.
Specification
| | |
| --- | --- |
| X-Axis Travel (mm) | 420 |
| Y-Axis Travel (mm) | 350 |
| Z-Axis Travel (mm) | 200 |
| Drive System | Linear Motor |
| Table to Spindle Distance (mm) | 115 ~ 315 |
| Spindle RPM (Min~Max) | 6000~40000 (60000 option available for E25) |
| Tool Holder Type | Dual face contact holder HSK |
| Maximum Tool Diameter (mm) | 6 |
| X, Y, Z Max Acceleration | 1 G |
| Rapid Feed Rate | 36m/min |
| Table Size (mm) | 600 x 400 |
| Max Table Weight (Kg) | 60 |
| Machine Dimension (mm) | 1635 x 3041 x 2205 |
| Machine Weight (Kg) | 6000 |