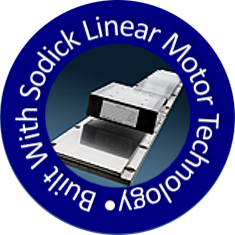 Precision parts machining for Medical, Aerospace and Cutting tools The most reliable linear motor driven Wire-cut EDM Improved surface finish supports variety of machining needs.
No screw drive system
The no screw drive system, which uses a linear motor and linear scale, is the ideal drive method which maintains high-speed and high response semi-permanently. The initial positioning accuracy can be maintained for years and years; machine operators will everlastingly enjoy the remarkably reliable machining performance.
New power supply unit
The new power supply unit employs "Perfect Active Control" technology. It realizes high-speed processing of discharge control and motion control simultaneously. The "Heart-NC", automatic programming system, is installed standard which allows machining program procedure without experience.
Versatility
The VL series are equipped with many advantageous functions as standard; such as, the advanced corner control
system, automatic float control, new high quality surface finish circuit, and more. Moreover, Sodick's in-house made superior ceramics are adopted standard for precision machining.
Specification
Dimensions in Machining Tank (WxD) (mm)
860×690
X Axis Travel (mm)
400
Y Axis Travel (mm)
300
Z Axis Travel (mm)
200
U-Axis x V Axis Travel (mm)
80 x 80
Max Taper Angle
±15° (Plate Thickness 120mm)
Max Workpiece Size (WxDxH) (mm)
830x610x215 (during flushing machining)
830x610x200 (during submerged machining)
Max Workpiece Weight (kg)
500 (during flushing machining)
350 (during submerged machining)
Wire Electrode Diameter (mm)
Ø0.10 – Ø0.30
Wire Tension
3-23N
Maximum Wire Feed rate
420mm/sec
Distance from Floor to Table Top (mm)
900
Machine Dimensions (WxDxH) (mm)
2020x2310x1990
Machine Wieght (Including P/S) (kg)
2700