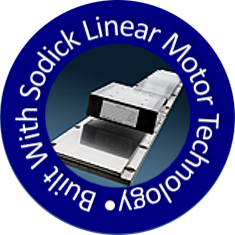 Linear Motor Drive System
Linear motor drive system is the most ideal mechanism which semi-permanently sustains high-speed axis-movements and instantaneous response. With 10-years of history providing linear motor-driven machines.
New Generator
The 5th generation electrical discharge technology has adopted the "Perfect Active Control," enabling simultaneous control of high-speed electrical discharge and axis-movements by using serial communication technology of 1Gbit/sec.
Arc-less & High-Quality Surface Finish
The new "Arc-less" electrical discharge system features further improved machining performance and ensures a greater reduction in machining time. Equipped with "SVC" circuit as standard, high-quality surface finishing, satin surface, and mirror surface can be achieved with great ease.
10 year warranty on positioning accuracy
Linear Motor (X/Y/Z axis)
Absolute Linear scale (X/Y/Z axis)
Ceramic components
Linear motor cooling unit
Dielectric fluid cooling unit
SVC circuit
"SGF2" Nano-Wear Discharge Unit
TMM3 generator
Improved Ease of Operation
Remote controller
LN Professional software for optimum condition search
Clamping chuck
LAN interface
USB port
15″ TFT Screen
Work light
Specification
Work Table Size (W x D) [mm]
1600 x 1000 (ceramic)
Work Tank Inner Dimensions (W x D x H) [mm]
2100 × 1250 × 650
Work Tank Fluid Level (Min to Max) [mm]
325 – 600
X Axis Travel [mm]
1200
Y Axis Travel [mm]
650
Z Axis Travel [mm]
500
Max Weight of Electrode [kg]
100
Max Workpiece Weight [kg]
5000
Machine Tool Dimensions (W x D x H) [mm]
3820 × 4200 × 3340
(Including CNC)
Machine Tool Weight [kg]
12500
Dielectric Tank Capacity (Initial dielectric fluid supply amount [L]
2770